Taking professionalism and responsibility seriously
Of all freight transportation modes, the tug and barge industry provides the most environmentally friendly goods movement option. Sause Bros. commitment to continuous improvement has propelled the company to engineer fuel-saving technology into tug and barge construction and develop an aggressive environmental management program to further enhance environmental protection.
Sause Bros. is a strong and proactive advocate of the DOT Marine Highway Program, recognizing that the shift of cargo off of crowded surface transportation routes onto the marine highway corridors is the most cost effective and environmentally sound cargo transportation method, resulting in significant environmental benefits. As Sause Bros. works to continuously reduce its own carbon footprint, customers can rest assured that their cargo is handled in the most environmentally friendly manner possible.
Fuel Efficient. Environmentally Responsible.
Sause Bros. barges transport your cargo more efficiently and economically than any other tender class in North America. Fuel and emission reductions are good for the environment and good for your business. Together with our partners, we will continue to invest in new technologies and keep Sause Bros. at the forefront of innovation and environmental stewardship.
Sause Bros. Environmental Awareness Video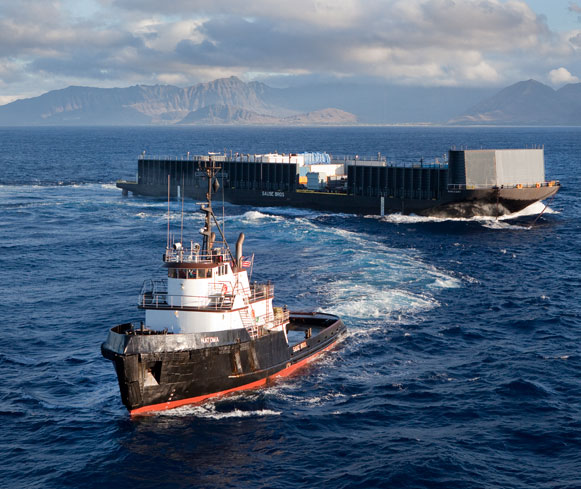 Safety
This is the core of our commitment to safety, and it incorporates three key elements:
1. PEOPLE – People matter. Our employees are the finest in the industry, and we have woven safety into the very fabric of our organization to reinforce our commitment to them.
2. PURPOSE – Our commitment to safety goes beyond working hours. We encourage and train our employees to make people-based safety a driving purpose in their lives both on and off the job.
3. PREVENTION – With our certification in the International Safety Management Code, along with our aggressive internal auditing program, we continue to address safety proactively through people-based incident prevention.
Our liquid cargo barges carry an extensive array of spill response equipment, designed to be put into action on a moment's notice. Periodic scheduled and unannounced drills and exercises ensure that our personnel are ready to respond to any incident.
We are committed to providing the best in marine cargo transportation services. And that means:
Meeting and exceeding the highest international standards for safety and environmental protection.
Striving for continuous improvement every day.
Building on our proven track record of reliable customer service.
Consistently providing the highest quality of service worldwide.
Helpful Links
U.S Coast Guard Marine Safety Office
Department of Transportation
International Maritime Organization
National Response Center
American Petroleum Institute
Quality
Ultimately, customers define quality. Sause Bros. is therefore committed to providing services, interactions, policies, and procedures that will ensure customer loyalty. We recognize that long-term customer relationships provide the most effective collaborative atmosphere in which our mutual commitment to quality may be implemented. We will work to make every call, every written communication, every personal interaction, every decision a reflection of our commitment to customer loyalty. Our aggressive internal auditing and customer feedback programs enable us to monitor our progress and react quickly and proactively to enhance the quality of our services.